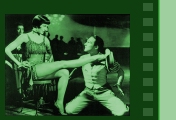 Biography
Short biography
Quick facts
Awards
Tributes
Bibliography
Filmography
Soundies
Movies (1943-1954)
Movies (1955-1994)
Stage
Television
Cyd's co-stars
Picture Galleries
Full length
Portraits
Bathing beauty
Family album
In company
Magazines
Advertisements
Wallpapers
Cyd on screen
In theaters
Cyd on DVD
Cyd on TV
Trivia
Quiz #1
Quiz #2
The MGM menu
Contact


Newsletter


Guestbook


Feedback
Silk Stockings
Distributor :
Metro-Goldwyn-Mayer
(1957 - 118 minutes)
Producer :
Arthur Freed
Director :
Rouben Mamoulian
Writers :
Leonard Gershe, Leonard Spigelgrass, based on the movie "Nitochka" (Ernst Lubitsch - 1939)
Composer :
Cole Porter
Cast :

| | | | |
| --- | --- | --- | --- |
| Fred Astaire | | Steve Canfield | |
| Cyd Charisse | | Nina Yoshenko | |
| Janis Paige | | Peggy Dayton | |
| Peter Lorre | | Brankov | |
| Jules Munshin | | Bibinski | |
| George Tobias | | Vassili Markovitch | |
| Joseph Buloff | | Ivanov | |
Plot :

Three Russian commissars have been dispatched to Paris to reclaim a defecting Soviet composer. Since Steve Canfield wants the composer to write the songs for his newest musical, he plies the commissars with wine and women, dissuading them from their mission. When Ninotchka shows up to retrieve the errant Russians, Steve Canfield turns on the old charm with her as well. She gradually succumbs to the combined lures of romance and capitalism, but returns to Russia when she believes that Steve Canfield has thrown her over for film-star Peggy Dayton. But Steve convinces her that he truly loves her.


Awards and nominations
1957, 15th Annual Golden Globe Awards :
Nominated, Best Picture - Musical or Comedy : Arthur Freed
Nominated, Best Actress in a Leading Role - Musical or Comedy : Cyd Charisse


Memorable quote
Steve Canfield :
Peggy Dayton :
Steve Canfield :

So you may have to persuade him.
How can I persuade him if you can't ?
Because we're built differently...


Pictures from the movie

Back on top
Back to the filmography (1955-1994)
Version française