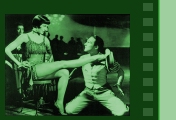 Biography
Short biography
Quick facts
Awards
Tributes
Bibliography
Filmography
Soundies
Movies (1943-1954)
Movies (1955-1994)
Stage
Television
Cyd's co-stars
Picture Galleries
Full length
Portraits
Bathing beauty
Family album
In company
Magazines
Advertisements
Wallpapers
Cyd on screen
In theaters
Cyd on DVD
Cyd on TV
Trivia
Quiz #1
Quiz #2
The MGM menu
Contact


Newsletter


Guestbook


Feedback


Cyd Charisse's biography
Cyd Charisse was born Tula Ellice Finklea on March 8, 1922, in Amarillo, Texas. Hollywood's greatest dancer of all times first studied classical dancing. She was in the Russian Ballet in Monte-Carlo and worked with David Lichine and Leonid Massine, using the names Felia Sidorova and Maria Istomina. She married her ex-dance teacher, Nico Charisse, in 1939. In 1943, David Lichine asked her to appear in her first movie ballet, in "Something to shout about", in which she is credited as Lily Norwood. The same year, she played a Bolchoï dancer in "Mission to Moscow", by Michael Curtiz. Choreographer Robert Alton and producer Arthur Freed hired her, to dance with Fred Astaire in "Ziegfeld Follies", directed by Vincente Minnelli, and Cyd Charisse then signed a seven year deal with the MGM. "The Harvey Girls", in 1945, by George Sidney and featuring Judy Garland, gave her the opportunity to show her talent as an actress.

The beginning of a great career
In the next few years, she appeared regularly in dancing acts of several musicals, with Judy Garland, Esther Williams, and Kathryn Grayson. It is also the time when she married her second husband, singer Tony Martin (1948). Her first part in a non-musical movie was in 1949 : "Tension", a detective film by John Berry, followed by "East Side, West Side", by Mervyn Leroy, featuring Barbara Stanwyck and James Mason. She played a Spanish woman in "Mark of the Renegade" (Hugo Fregonese, 1951), where she danced with Ricardo Montalban. She played and Indian girl in Andrew Marton's "Wild North", in 1952, a western movie.

Her greatest movies
She really became famous in 1952, with her fantastic appearance in the Broadway Melody Ballet scene, with Gene Kelly, in the most famous musical ever : "Singin' in the rain", by Gene Kelly and Stanley Donen. Her white dress in the dreamlike sequence, her hairdo "a la Louise Brooks" and her look in the first part of the ballet were a revelation for many people. The beauty and the talent of Cyd Charisse make her one of the stars of the movie, despite her relatively short appearance in it and her silent part. Her way to be double was used again by Vincente Minnelli in "The Band Wagon", where she starred with Fred Astaire, which was a real consecration. "Singin' in the rain" and "The band wagon" are Cyd Charisse's most important movies, and acts like the Broadway Melody Ballet, and, in the second movie, Dancing in the dark and The Girl Hunt Ballet, are forever in the Hollywood Musicals Hall of Fame. The picture galleries available from the filmography contains photographies of these unforgettable moments.

Cyd Charisse's hour of glory
Cyd Charisse had become a star. She played again with Gene Kelly in a musical directed by Vincente Minnelli, "Brigadoon", in 1954, and did one of her greatest acts in "Deep in my heart", by Stanley Donen. Her beauty and her talent were amazing in "It's always fair weather", by Stanley Donen and Gene Kelly. In 1957, she played a part created in 1939 by Greta Garbo, in a musical version of Ninotchka, directed by Rouben Mamoulian : "Silk stockings". With Fred Astaire, she did some of her most elegant dances of her carrer in this movie. In 1958, she played in the "Party Girl", directed by Nicholas Ray. Her two dancing acts are admirable, but she is also amazing in her dramatic role in this movie, which is her last great musical. The best moment of the end of her career is her part in "Two weeks in another town" (Vincente Minnelli), where she plays a vamp. She then appeared in several TV shows, and on stage in Las Vegas, with Tony Martin. She also appeared on stages in Melbourne, New York and London, where she starred in musicals ("No, No, Nanette", "Charlie Girl", "Illya Darling" and "Grand Hotel").
Cyd Charisse died on June 17, 2008 in Los Angeles, California and was buried at Hillside Memorial Park Cemetery on June 22, 2008.